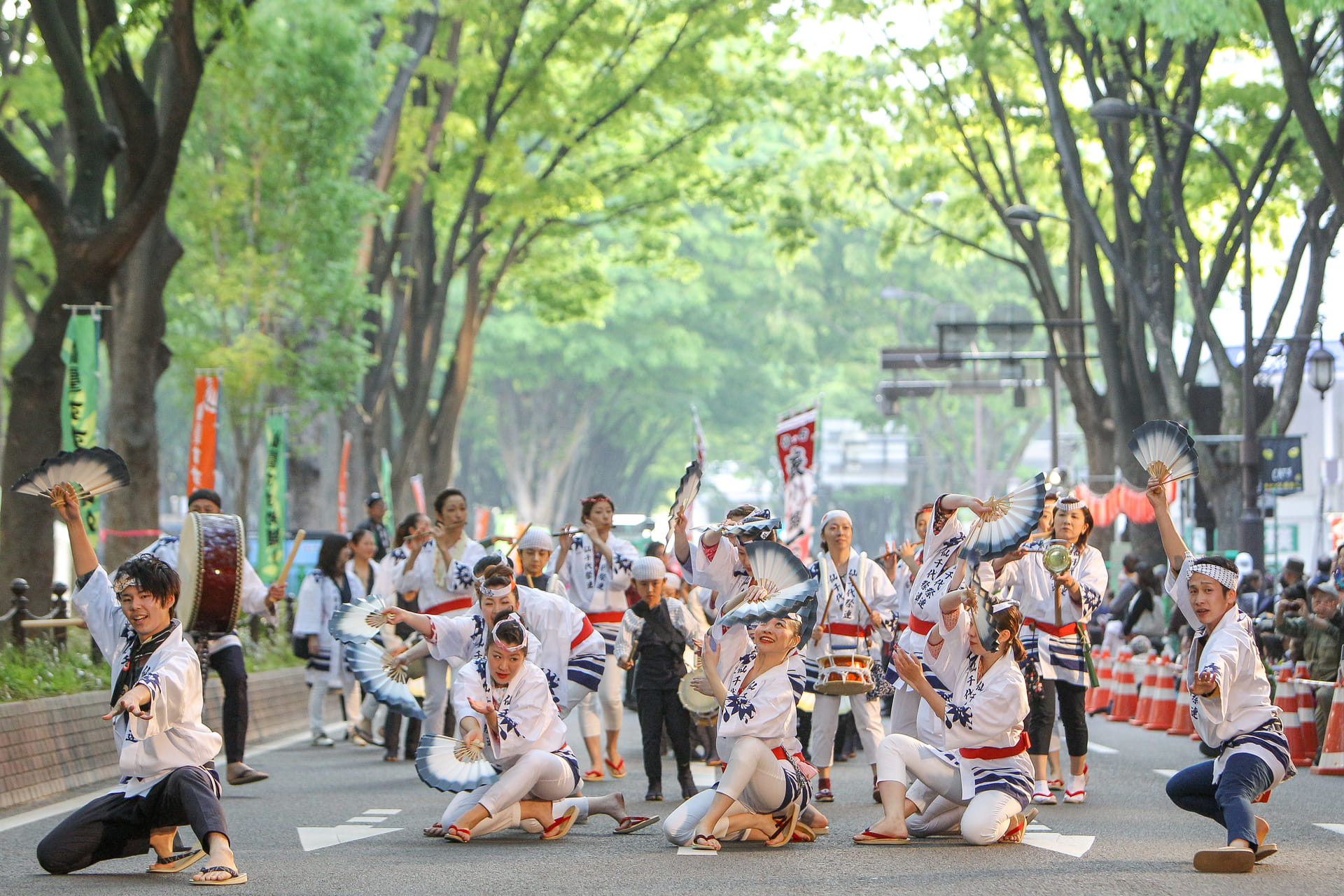 Sendai Aoba Festival(仙台青葉まつり)
Sendai celebrates daimyo lord and city founder Date Masamune (1567–1636) with music and dance in a vibrant city-center festival every spring. The Sendai Aoba Festival takes place over two days on the third weekend of May, around the anniversary of Date Masamune's death on May 24.
Events begin on Saturday with colorful dance processions and culminate on Sunday with parades that feature ornately decorated floats and a costumed procession. The Sendai Aoba Festival preserves historical traditions, incorporating a regional style of festival floats called yamaboko, as well as a celebratory dance that dates from 1603.
Sendai Suzume Odori (Sparrow Dance)
The Suzume Odori is the focus of the festivities on the first day. The dance has been passed down by generations of stonemasons, and is believed to have evolved from an improvised dance first performed at the feast held to celebrate the completion of Aoba Castle in 1603. The dance includes small jumps evoking the hopping of sparrows, the birds on one of the Date family crests.
Yamaboko festival floats
Eleven yamaboko floats, each around 6 meters tall, are wheeled through the city accompanied by music and dance on the second day. The wooden carts are typically red or black, gilded and elaborately decorated. Several people ride on top dressed in traditional festival garments, some playing musical instruments. Each float has a theme and a decorative centerpiece: some are Date Masamune-themed, such as the Masamune Ko Kabuto Yamaboko, which has a large model of his samurai helmet; others feature deities such as Ebisu, one of the seven gods of good fortune. Records indicate that yamaboko were a staple of Sendai's festivals in the Edo period (1603–1867).
The procession
Hundreds of performers dressed in period costumes recreate the procession that occurred when Date Masamune left Aoba Castle. The procession begins near Sendai Station with the departure of companies of archers, spear-bearers, and musketeers. Groups that follow dress in armor symbolizing different periods of Masamune's life, places where he grew up, and people that supported his success. The spectacle pays homage to Masamune and celebrates Sendai's heritage. The procession is followed by other events, including the yamaboko parade of floats.