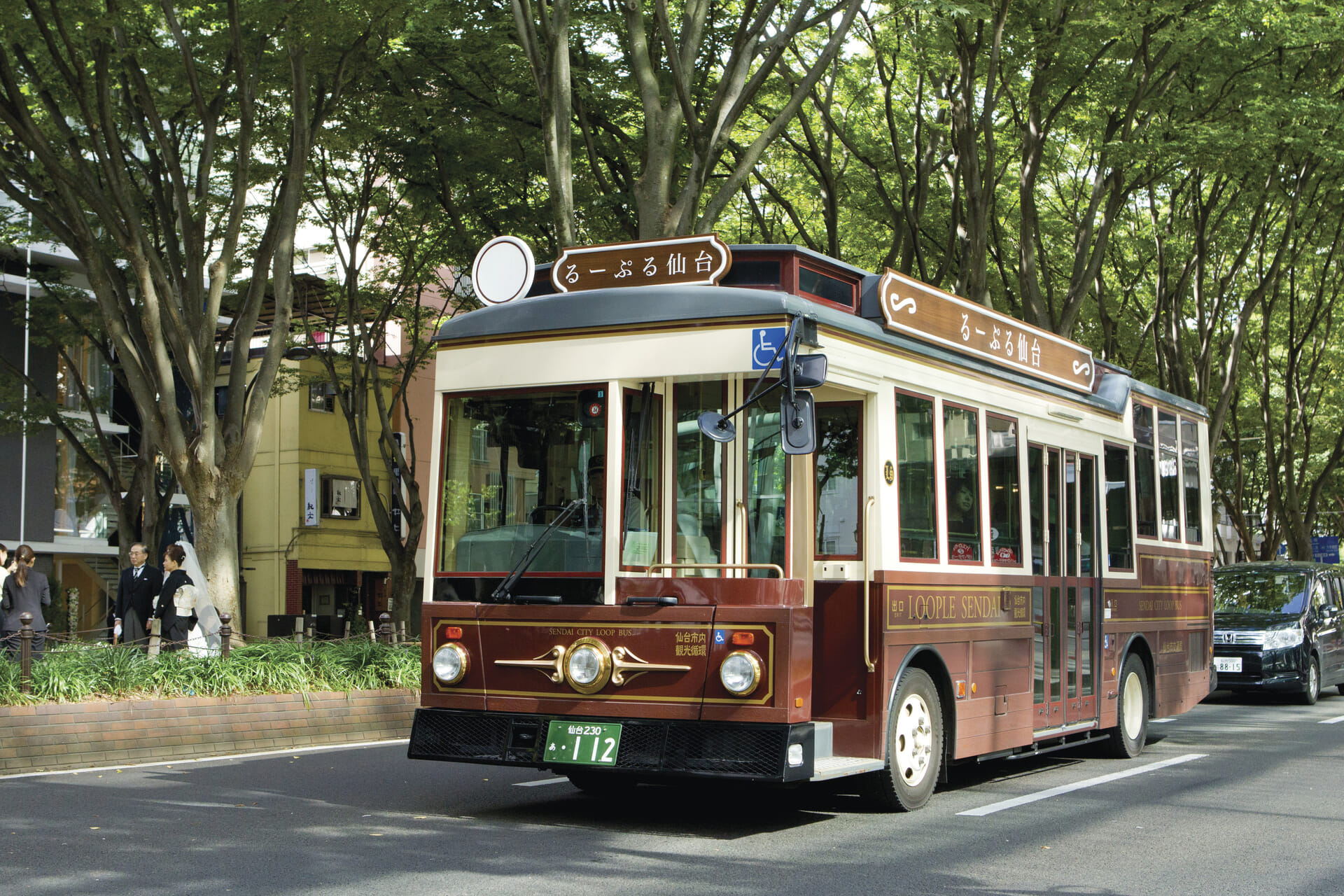 Pass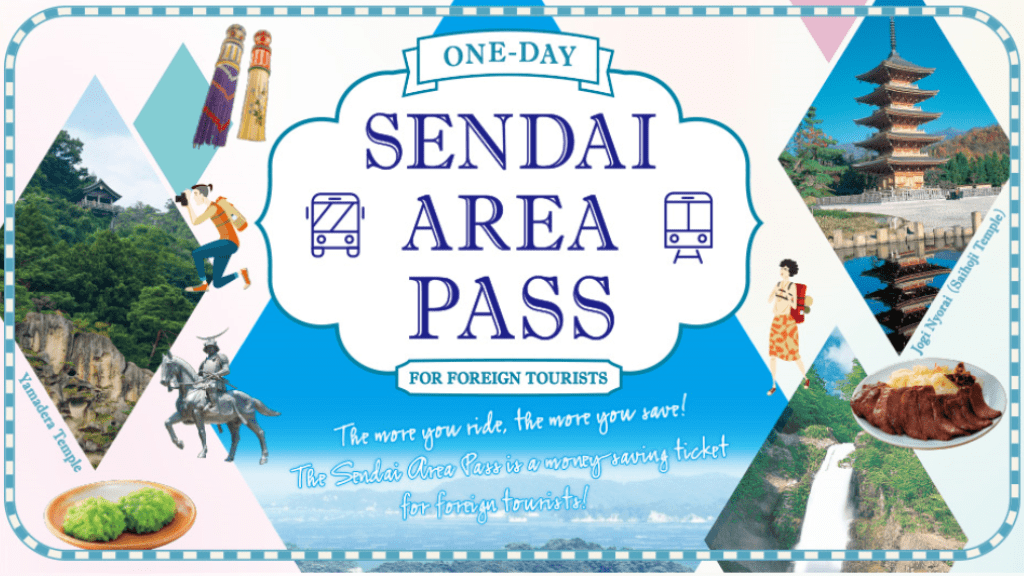 The Sendai Area Pass:
the more you ride, the more you save.
As of 1st April 2017, the unlimited travel ticket for foreign tourists, Sendai Area Pass, is on sale. This cheap and convenient pass allows you a day of unlimited travel on the Loople Sendai, Sendai City subway lines and buses, and JR trains in the area.
You can also receive discounts on entry fees to Zuihoden and Sendai City Museum, among other locations, and other special services. For details, please see the website.

The "Sendai Marugoto Pass" allows you unlimited travel around Sendai and vicinity
The pass is good for a two-day period and allows pass-holders unlimited rides on trains and buses. You can travel anywhere in Sendai as well as major sightseeing spots such as Akiu Onsen, Matsushima or Yamadera Temple.
Price ¥2,720
Effective period of pass 2 days
●Where you can purchase the pass:
""Midori no Madoguchi"" (みどりの窓口、ticket office) at all JR stations, reserved seat ticket vending machines at JR Sendai Station, ticket vending machine at Sendai Airport Station, etc.
●How to use the pass:
Go through the automatic ticket gate when using JR trains, the subway or the Sendai Airport Line. When using the Loople Sendai bus or other buses, show your pass to the driver when getting off the bus.

*If you show your Marugoto Pass at the Sendai Tourist Information Center on the 2nd floor of JR Sendai Station, you will receive a coupon booklet containing discount coupons and information on special services.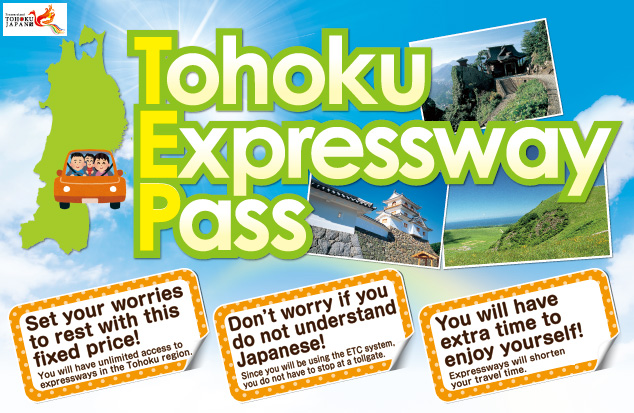 Tohoku Expressway pass
The Tohoku Expressway Pass is a special service that allows unlimited use of Tohoku expressways through the ETC system at a flat rate.
The pass user can drive on expressways at a flat rate as many times as they wish for two or more consecutive days up to fourteen days without worrying about additional charges. The service is available via rental car service companies.
For more information, please visit the web site of East Nippon Expressway Company (available in English, Chinese, and Korean).
Subway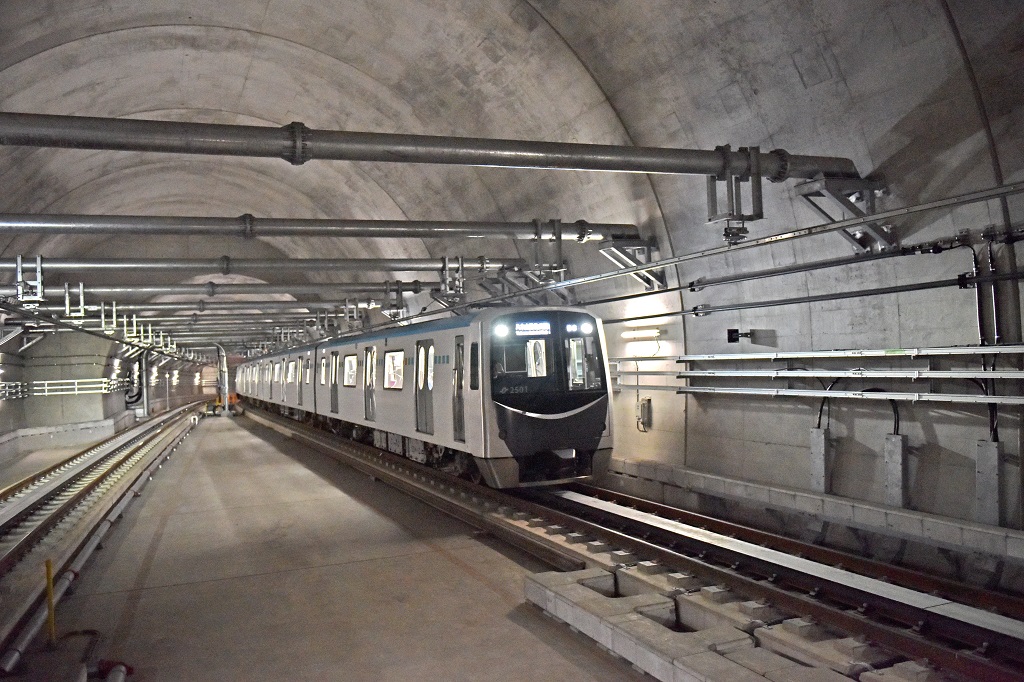 Sendai City Subway
The Sendai Subway system runs through Sendai and is convenient for foreigners with announcements made in English.
Especially Sendai Station, Hirosedori Station and Kotodai Koen Station in central Sendai are useful for tourists. You can ride on the subway for free using the Sendai Marugoto Pass.
Buses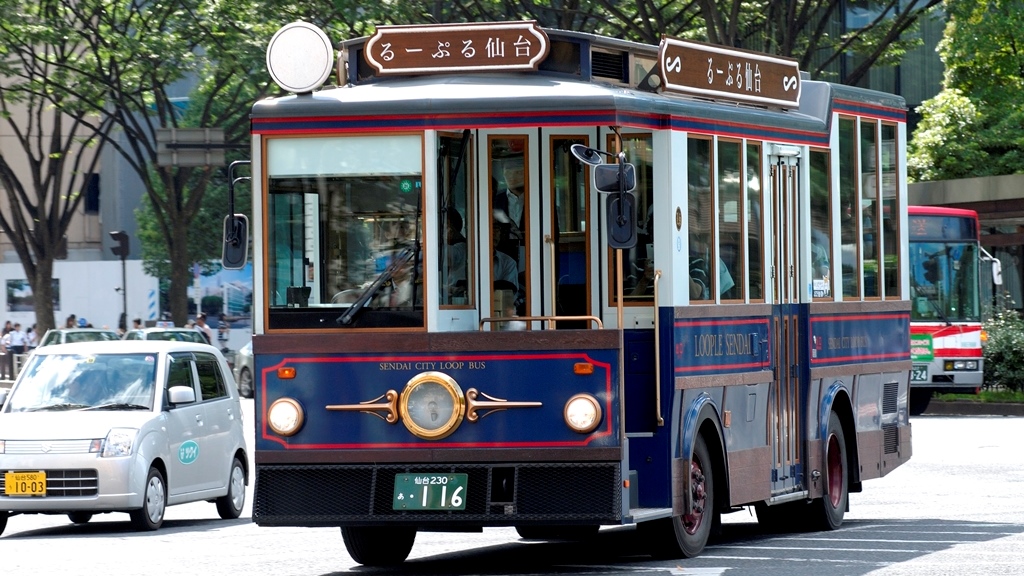 Loople Sendai
The Loople Sendai bus stops at major sightseeing spots in central Sendai. If you purchase a one-day pass, it allows you unlimited rides for the day. If this is your first visit to Sendai, this is an ideal way to see the sights of the city.
How to use Loople Sendai
●It takes about one hour per full circuit.
●From the JR Sendai Station West Exit Bus Pool, take the bus from Platform No.16
●The first bus leaves JR Sendai Station at 09:00 and the last bus leaves at 16:00. Buses run every 15-20 minutes.
●Get on the bus at the central entrance and get off at the front. When you are getting off the bus, insert your one-day pass into the ticket machine or pay the single fare.
●Announcements are made in English.
●Change can be made for ¥1,000 bills. Other types of bills cannot be changed.
Bus fare
■ One-day pass (only good for the Loople Sendai bus)
Unlimited rides on the bus for a single day
Adults (12 years and older): 620yen
Children (under 12 years of age): 310yen
■ One-day pass for Loople Sendai and Subway
Adults: 900yen
Children: 450yen
■ Single-ride ticket
Adults: 260yen
Children: 130yen
Where to Buy Economical One-day Pass
1) JR Sendai Station West Exit Bus Pool Ticket Window
2) 21 hotels and accommodation facilities in Sendai City (Tickets are sold at the front desk. Purchases can also be made by non-guests.)
3) Facilities along the route of Loople (Sendai Aoba Castle Museum, Zuihoden Mausoleum and Sendai International Center)
4) On Loople Sendai Bus
Special Offers of One-day Pass for Loople Sendai and Subway
■ Sendai Aoba Castle Museum: Adults: 700yen → 500yen
■ Zuihoden Mausoleum: Adults: 550yen → 450yen
■ Sendai City Museum: Adults: 400yen → 320yen
■ The Miyagi Museum of Art: Admission fee (permanent exhibits) discount, adults 300yen → 240yen, or 100yen discount for special exhibits
…and more!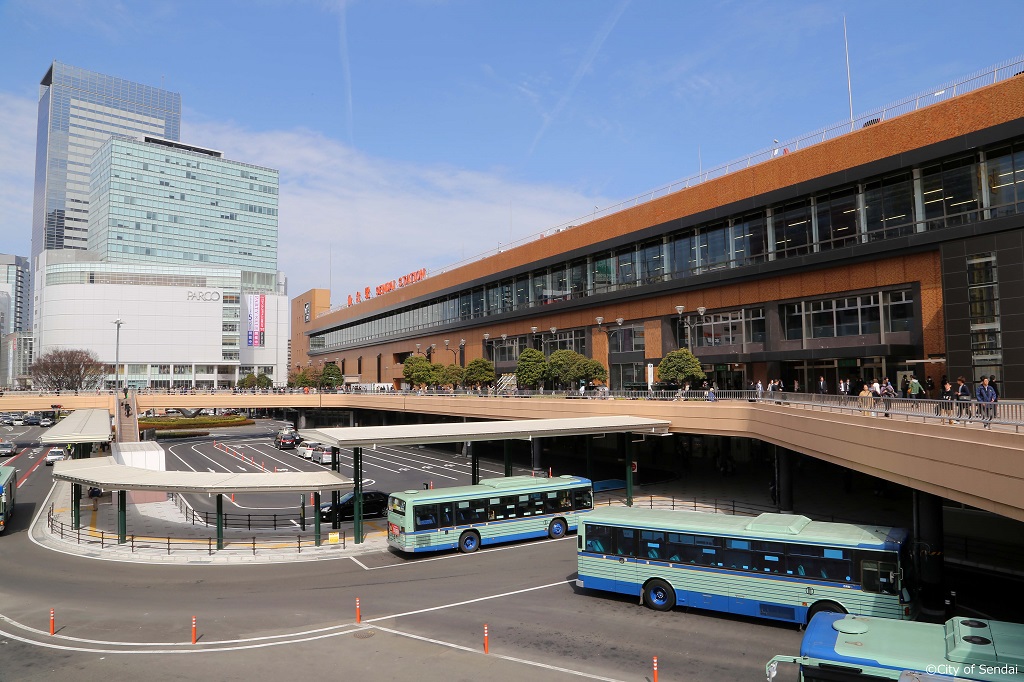 Expressway Buses
If you want to visit neighboring prefectures such as Yamagata or Fukushima, or even Tokyo, expressway buses are convenient.

■ Sendai Station-Yamagata Station leaves from Sendai Station West Exit Bus Platform No.22; Travel time: 1 hr; Adults: ¥930; reservations not necessary

■ Sendai Station-Fukushima Station leaves from Sendai Station West Exit Expressway Bus Center; Travel time: 1 hr; Adults: ¥1100; reservations not necessary
Route Buses
Buses in the Sendai area have English announcements when stopping at major sightseeing spots.
There are 242 different bus routes with 48 lines that travel from central Sendai to its outskirts.
The base fare is ¥150 – ¥180. There is a "¥120 zone" where you can ride the bus for only ¥120 within the area.
If you use the Sendai Marugoto Pass, you can get on and off the bus anywhere for free.
Rental Cars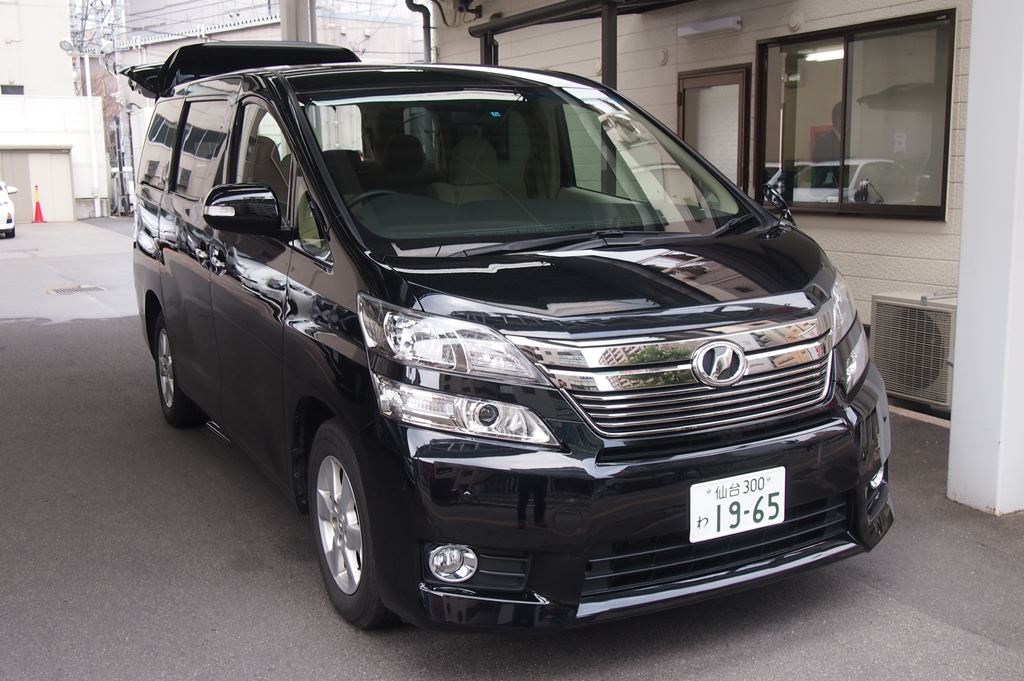 Rental Cars
If you bring the proper documents with you, you can drive a car in Japan (please check the laws before you leave for Japan). Almost all cars have a car navigation system installed so you can easily find your way around.
Car rental companies
Car rental agency counters are located at the Sendai Airport domestic terminal (1st floor). There are also car rental agency offices around JR Sendai Station.
Rent
The cost to rent a compact car is about ¥6500 for 24 hours. For each day thereafter, There is an additional ¥5700.
How to rent a car
You can rent a car directly from the agency on the day you arrive. It is recommended that you reserve a car beforehand on the Internet, or other means.
TOYOTA Rent a Car
(in English, Chinese, Korean and Thai)
https://rent.toyota.co.jp/eng/
NIPPON RENT-A-CAR
(in English)
https://www.nipponrentacar.co.jp/english/index.html
Times Car Rental
(in English, Chinese and Korean)
https://www.timescar-rental.com/
NISSAN Rent a Car
(in English, Chinese and Korean)
https://nissan-rentacar.com/english/
Taxis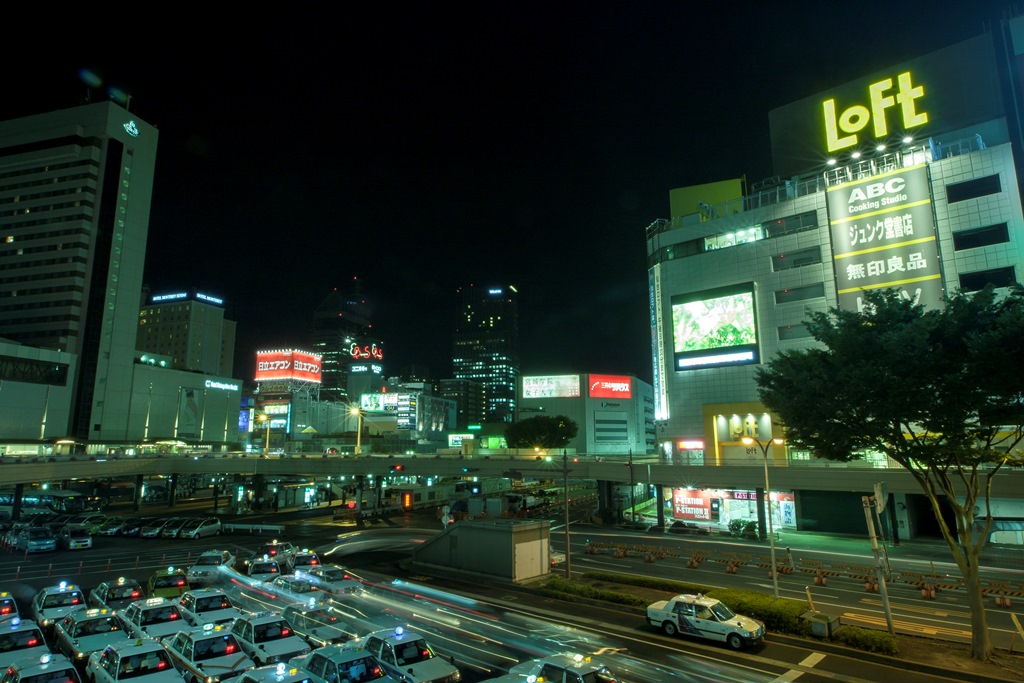 Taxis
"Taxis in Japan are very safe. But most taxi drivers speak only Japanese. Therefore, it is best to point at your destination to the driver.
Fares
Fares differ according to time and distance. The minimum fare for a small-sized taxi is ¥670 and if you take a taxi early in the morning or late at night, there is an extra charge.
Taxi fares to major sightseeing spots (small-sized taxi)

■ Sendai Airport-JR Sendai Station: about ¥5500
■ JR Sendai Station-Hirosedori (shopping district): ¥670
■ JR Sendai Station-Kokubuncho (entertainment district): ¥670
■ JR Sendai Station-Akiu Onsen (hot spring resort): about ¥6000
■ JR Sendai Station-Sakunami Onsen (hot spring resort): about ¥7700
■ JR Sendai Station-Matsushima: about ¥6300
Sightseeing Taxi
Each taxi company has sightseeing courses and offers taxis that will take you around to major sightseeing areas (reservations required).
Inquiries about sightseeing taxi;
■Inari Taxi・022-241-1122
http://www.inaritaxi.co.jp/
■Teisan Cab Sendai・022-231-5151
http://www.teisantaxi.jp/index.html
(in Japanese)
Community Cycle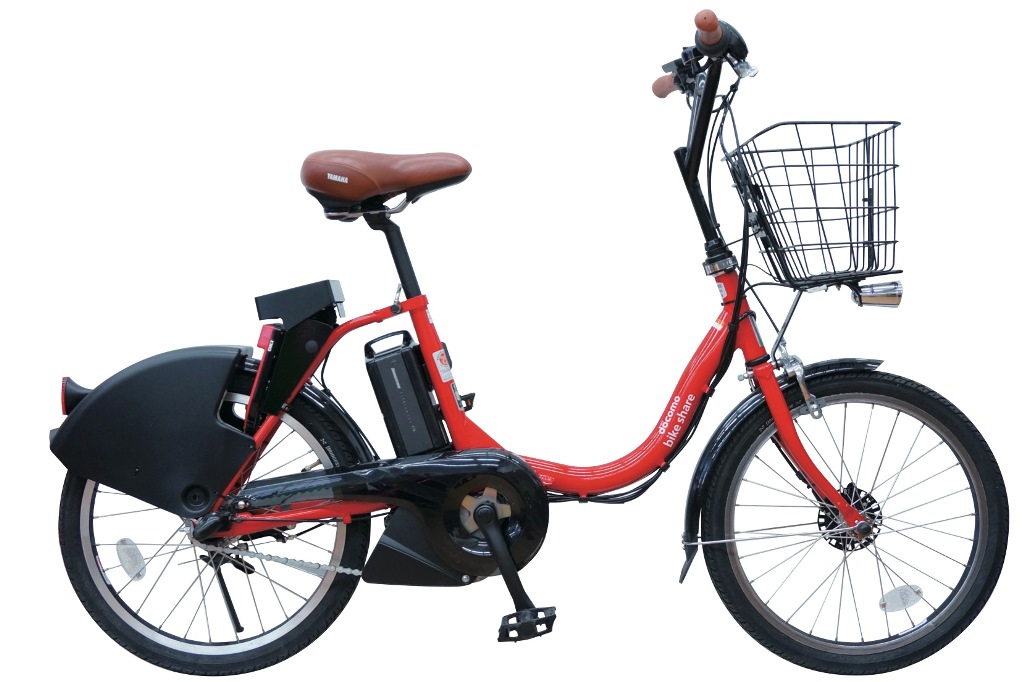 "DATE BIKE", a Community Cycle (Bicycle Sharing) Service
DATE BIKE" is a useful bicycle-sharing service which you can rent and return at any cycling port in downtown Sendai.
Prior registration required can be completed at the Sendai Tourist Information Center located at the Second floor of Sendai Staton.

■ DATE BIKE service available: 7:00 -22:00
■ Address of the manned service station: 1F of Yamaguchi Building, 1-1-31 Ichibancho, Aoba-ku, Sendai 980-0811 (open 8:00-19:00)