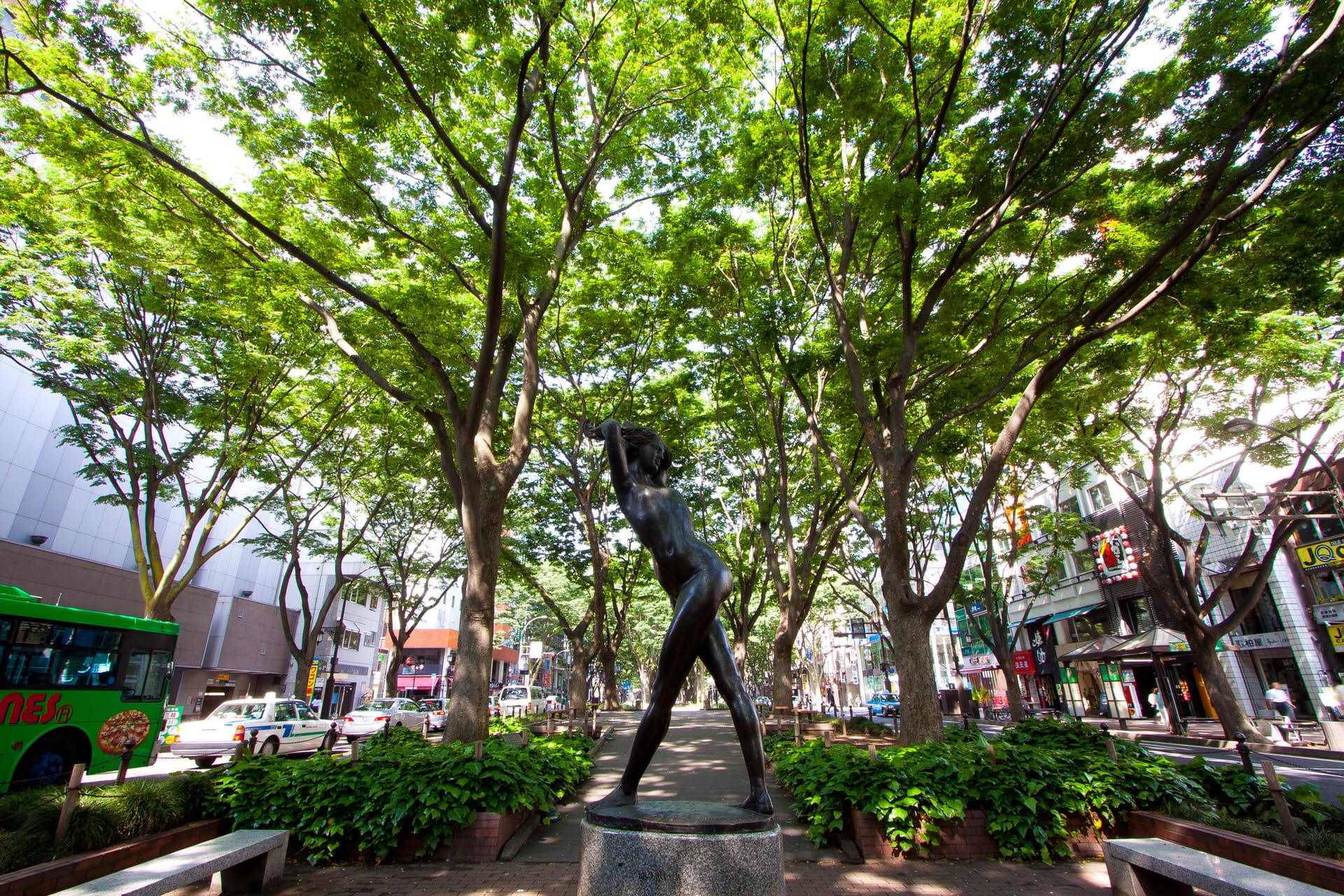 Jozenji-dori Avenue
Jozenji-dori is a tree-lined avenue running east–west through the center of Sendai. It is named after Jozenji Temple, which was built during the same period that Date Masamune (1567–1636), the powerful warlord and daimyo, built Aoba Castle and founded the town of Sendai in the early seventeenth century. Although Jozenji Temple no longer exists, Jozenji-dori calls to mind the early history of the city, and its greenery continues Sendai's legacy as the City of Trees.
The changing seasons
Zelkova trees (or Japanese elms) are planted along both sides of the avenue, and along a promenade that runs down its center. The trees create a lush, green canopy during spring and summer. In autumn, the leaves turn a rich golden color before fluttering down to carpet the ground, and in winter, the branches twinkle with lights as part of the Sendai Pageant of Starlight.
A place for the community
Shops and restaurants line the avenue, and its sidewalks buzz with activity after the workday and on weekends. The central promenade is about 700 meters long and furnished with benches, flowerbeds, and sculptures. Many popular events are held along the avenue, and stalls are occasionally set up on the promenade for markets and fairs. Musicians perform on the sidewalk in September as part of the Jozenji Street Jazz Festival. In October, sections of the street are closed to traffic for a gala parade of dancers, the highlight of the Michinoku Yosakoi Festival.
The City of Trees
Date Masamune founded Sendai in the early seventeenth century after he was awarded his own domain by Tokugawa Ieyasu (1543–1616). As an ally of the Tokugawa family, he supported Ieyasu in the Battle of Sekigahara (1600), a decisive battle that led to the establishment of the Tokugawa shogunate. The outcome of the battle put an end to centuries of civil war, but at the time it was unclear whether peace would hold. On founding his castle town, Masamune ordered his retainers to plant bamboo and fruit-bearing trees throughout their properties in the event of famine, and to maintain cedar forests on the fringes of their estates. Consequently, Sendai became blanketed in green, and came to be known as the City of Trees. Much of this greenery was lost during air raids in World War II, but leafy avenues like Jozenji-dori and Aoba-dori carry on its legacy.
【Virtual Trip】Sendai Jozenji-dori Avenue in early summer
https://youtu.be/mKgGy_UBU5U