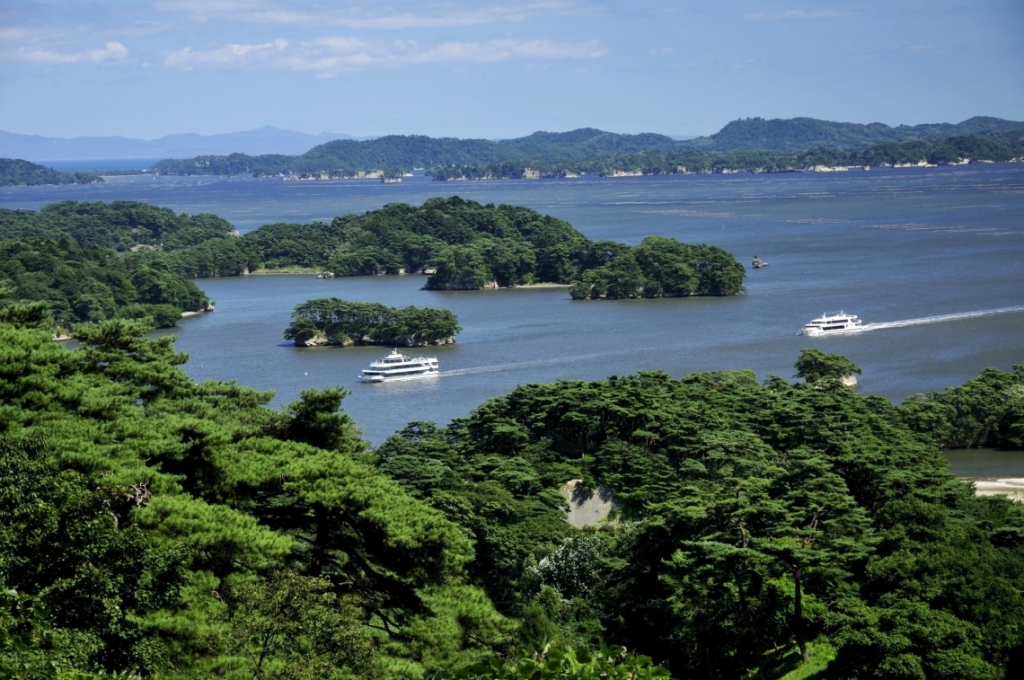 Sightseeing Boats
The best way to see the 260 islands in Matsushima Bay is by boat.
Several companies offer sightseeing boat trips around Matsushima Bay.

There are two main courses, both of which take approximately 50 minutes.
1) The first are round-trip courses departing from and returning to Matsushima.
2) The second are one-way courses between Matsushima and Marine Gate in neighboring Shiogama City. This is perfect for those who would like to explore Shiogama between Matsushima and Sendai.

There are also special cruises to the dramatic Saga Kei Cliffs in Higashi-Matsushima which depart from Matsushima.
In addition there are seasonal cruises including a New Year's first sunrise cruise, fall light-up cruises and oyster lunch cruises in winter.
*Contact information:
-1."Matsushima Shimameguri Kankousen Kigyou Kumiai" (松島島巡り観光船企業組合)
(Matsushima Island Sightseeing Consortium)
022-354-2233
https://www.matsushima.or.jp/
-2."Marubun Matsushima Kisen" (丸文松島汽船)
Phone: 022-354-3453
https://www.marubun-kisen.com
*Tickets and Reservations:
Ticket reservations are available by phone and online. You can also purchase tickets without reservation directly from the cruise companies located outside the Matsushima Rest House (facing the gravel Central Park.)
Hours
Matsushima Shimameguri Kankousen Kigyou Kumiai offers boat tours leaving on the hour between 9:00-16:00 daily (15:00 in the winter) / Marubun Matsushima Kisen offers boat tours leaving on the hour between 9:00-15:00 daily.
Admission
Ticket prices for roundtrip and Matsushima-Shiogama courses are 1500 yen. Round-trip cruises between Matsushima and the Saga Kei cliffs are 2500 yen (between April and October only) and are offered by the Matsushima Shimameguri Kankousen Kigyou Kumiai only. Special tours for groups are also available. Please inquire with the tour companies directly.
Access
Cruises depart from the boat pier next to the Rest House.
The closest train station is Matsushima Kaigan Station on the JR Senseki Line (10 minute walk).
Languages
Sightseeing boat announcements are in Japanese and English. Advice and reservation assistance available in English from the Matsushima Information Center at +81-(0)22-354-2263 between 8:30-17:00. (Chinese and Korean speakers also available on some days)
Address
98−1 Chonai, Matsushima Town, Miyagi Prefecture
---
Experience Sendai Activities
The facilities and stores introduced have implemented measures against coronavirus such as alcohol disinfection, ventilation, and partitioning.
Please wear a mask, disinfect your hands, and cooperate with social distancing when you use the facilities and stores.