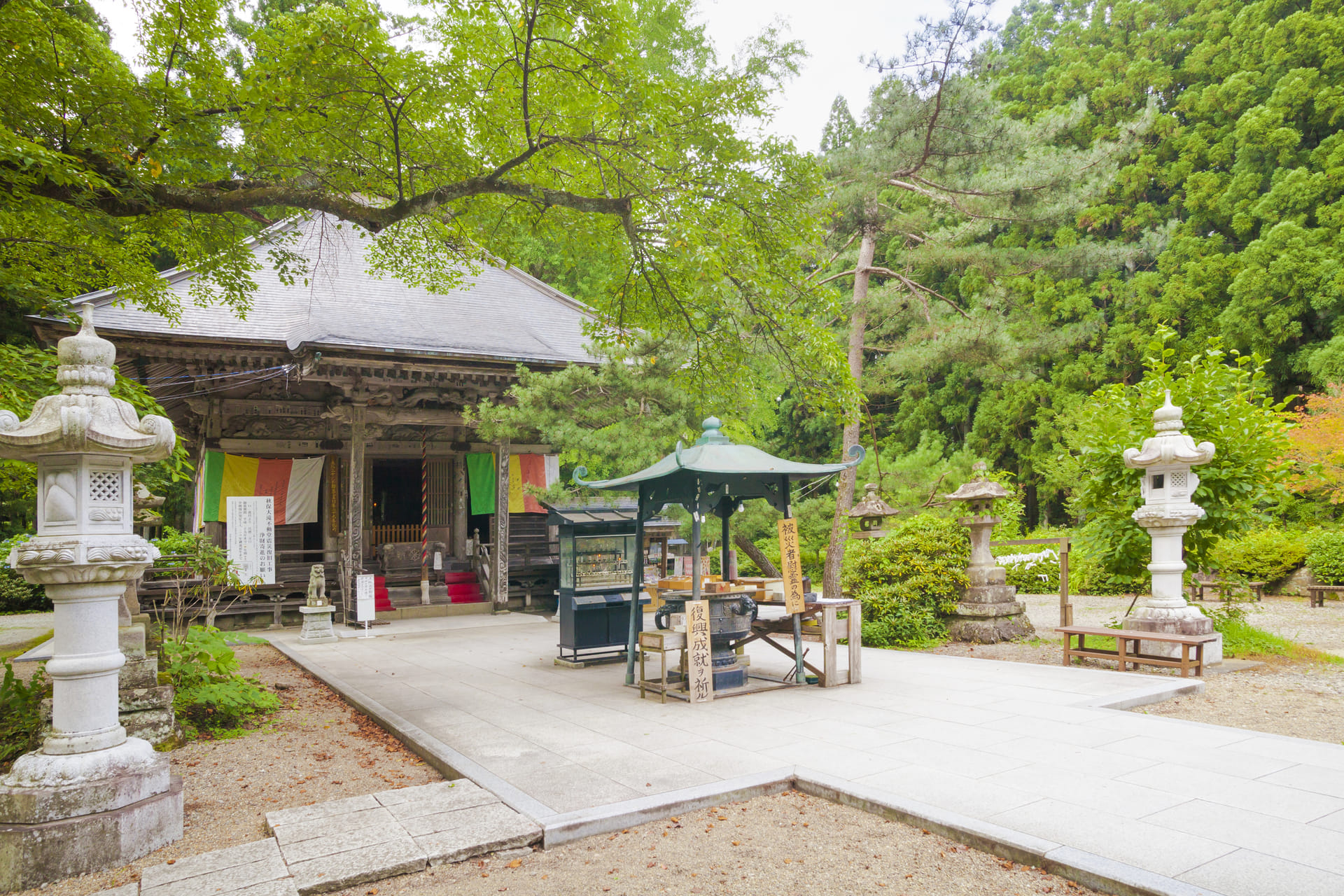 Akiu Otaki Fudodo
Saiko-ji, or Takimotosan as it is officially called, is regarded as the inner shrine of Risshaku-ji in Yamadera, Yamagata Prefecture. It is said that the priest Jikaku Daishi (also known as Ennin) founded Risshaku-ji during his preaching tour around Tohoku in the Jogan Period (856-875 CE), after undergoing a rigorous course of religious training for a hundred days at Akiu Otaki Falls located right beside the current Fudo-do (hall dedicated to Fudo Myoo, the God of Fire). The temple shrine features a huge bronze seated statue of Fudo-myoo which is 3.3 meters in height, 5.1 meters around the waist, 7.2 meters around the knees, and has flaming nimbus 5 meters high.

In 1828, after completing the statue of Fudo, Chisoku-shonin jumped into the waterfall, praying for all people to have their wishes come true. Since then many people have prayed to the statue to grant them their wishes. Right behind the Fudo-do is Akiu Otaki Falls, which is designated as a national area of natural beauty.
The statue of Fudo is said to have been cast during the Edo period, when Chisoku-shonin rebuilt the temple.
Admission
Fees and charges (approximate transportation costs):
The fare on the Sendai City Bus from JR Sendai Station is 1,150 yen.
Access
Take a bus bound for Akiu Otaki Falls at No.8 stop at JR Sendai Station West Bus Terminal, get off at the last stop, and it is right there.

Parking facilities:
・Available for standard-sized vehicles (free of charge)
・Available for large vehicles (free of charge)
・100 spaces available, free of charge (accommodates 5 or 6 large buses)
Address
11 Otaki, Baba, Akiumachi, Taihaku-ku, Sendai
The facilities and stores introduced have implemented measures against coronavirus such as alcohol disinfection, ventilation, and partitioning.
Please wear a mask, disinfect your hands, and cooperate with social distancing when you use the facilities and stores.