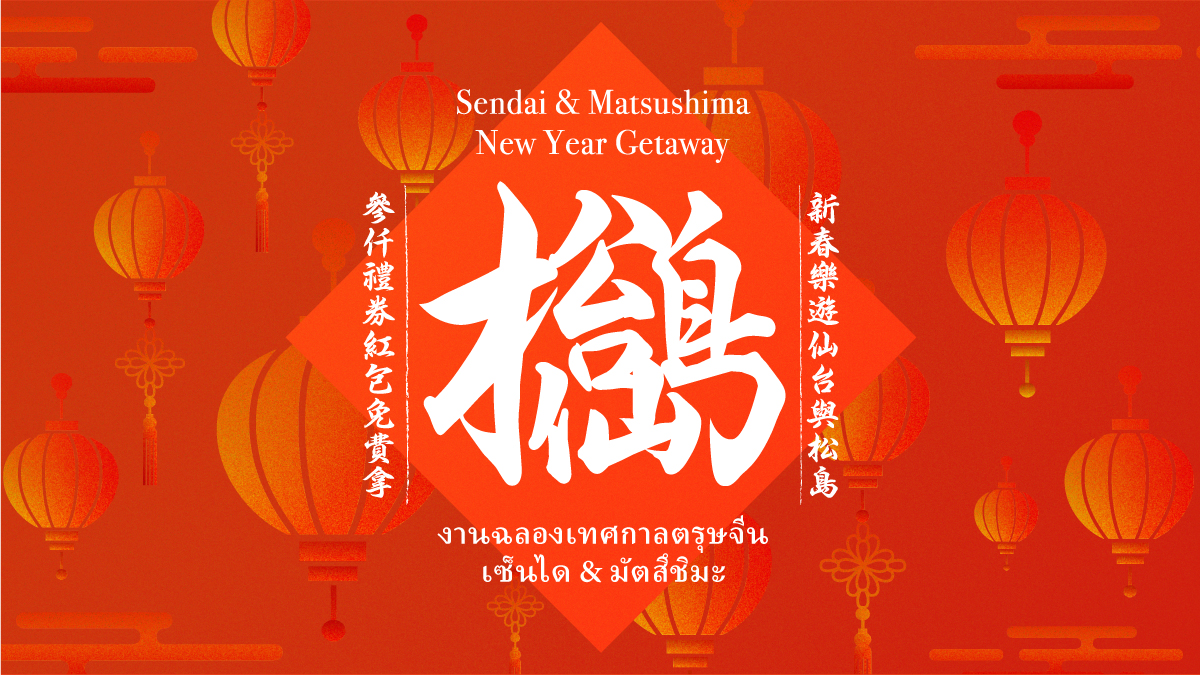 Sendai & Matsushima New Year Getaway
Stay in Sendai and receive ¥3,000 worth of gift vouchers!【Hotels】
During the campaign period, tourists who stay at designated hotels will receive gift vouchers worth ¥3,000 as a New Year's gift, which can be used at commercial facilities, restaurants, and tourist attractions in Sendai and Matsushima.
[Campaign Period]
January 12, 2024 (Friday) – February 20, 2024 (Tuesday)
※ Gift vouchers will be issued by February 15, 2024 (Thursday).

[Eligibility]
Foreign tourists staying at designated hotels in Sendai City.

[How to Obtain Gift Vouchers]
Please present your passport during the check-in process at the designated hotel.

【Terms and Conditions】
Only one voucher will be delivered per reservation, regardless of the number of consecutive nights booked.
Only one voucher will be delivered per room, regardless of the number of occupants.
Please note that the distribution of vouchers is limited and may end before February 15, subject to availability.
Certain products and services may not be redeemable with vouchers, even at locations that accept vouchers. For more information, kindly refer to the page or contact the facilities directly.
Vouchers may be used in conjunction with other discount coupons.
【Campaign Inquiry】
For further inquiries, please contact the Consumer Expansion Campaign Operations Office.
info@sendai-newyear-gataway.com
Related link:【experiences and shops】

【Hotels】
①Hotel Bel Air Sendai
---
②Hotel JAL City Sendai
---
③Hotel Monte Hermana
---
④Hotel Green Arbor
---
⑤Hotel Metropolitan Sendai
---
⑥Hotel Metropolitan Sendai East
---
⑦Hotel Premium Green Hills
---
⑧Hotel Monterey Sendai
---
⑨Hotel Unisite Sendai
---
⑩Sotetsu Fresa Inn Sendai
---
⑪~⑳
⑪Hotel Green Mark
---
⑫Sendai Washington Hotel
---
⑬Koyo Grand Hotel
---
⑭Mitsui Garden Hotel Sendai
---
⑮Hotel Green Selec
---
⑯Hotel Vista Sendai
---
⑰Tenza Hotel Sendai Station
---
⑱Hotel Route-Inn Sendai Higashi
---
⑲Hotel Route-Inn Sendai Nagamachi Inter
---
⑳Sendai Hills Hotel
---
㉑~㉖
㉑Hotel Route-Inn Sendaiizumi Inter
---
㉒Sakunami Onsen Yuzukushi Salon Ichinobo
---
㉓Akiu Onsen Kagaribi no Yu Ryokusuitei
---
㉔Hotel New Mitoya
---
㉕Oshu Akiu Onsen Rantei
---
㉖Akiu Resort Hotel Crescent
---